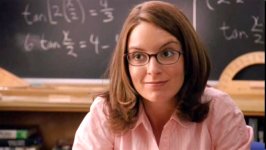 Elizabeth Stamatina
"
Tina
"
Fey
(born May 18, 1970) is an American actress, comedian, writer and producer who portrayed Sharon
Norbury
in the movie
Mean Girls
.
Mean Girls Edit
Fey wrote the screenplay for the film Mean Girls based in part on the non-fiction book Queen Bees and Wannabes by Rosalind Wiseman. Despite the movie's immense success, Fey turned down numerous offers to write a sequel to Mean Girls.
Ad blocker interference detected!
Wikia is a free-to-use site that makes money from advertising. We have a modified experience for viewers using ad blockers

Wikia is not accessible if you've made further modifications. Remove the custom ad blocker rule(s) and the page will load as expected.