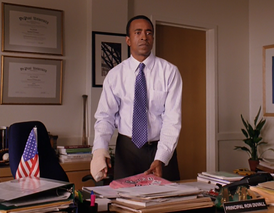 Principal
Ron Duvall
is portrayed by
Tim Meadows
. Mr. Duvall is the only character in both
Mean Girls
and
Mean Girls 2
. Duvall is Principal at
North Shore High School
in
Evanston, IL
.
He is a graduate of DePaul University surprisingly he hangs a Northwestern University pennant in his office as well. He has Carpal tunnel syndrome. By the time of the second film there are T.V. screens installed through out the school, which play Mr. Duvall's announcements.
Personal Life
Edit
At the end of the first film, he dances with Ms. Sharon Norbury at the Spring Fling. It seems like the two are pairing up romantically. Ms. Norbury doesn't appear in the sequel and there is no further information on their love life.
Ad blocker interference detected!
Wikia is a free-to-use site that makes money from advertising. We have a modified experience for viewers using ad blockers

Wikia is not accessible if you've made further modifications. Remove the custom ad blocker rule(s) and the page will load as expected.