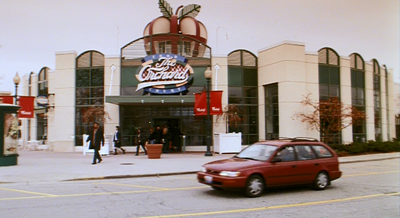 Old Orchard Mall
, is a shopping center in Skokie, Illinois. It is one of the largest malls in Illinois.
Its anchor stores are Bloomingdale's, Macy's, Lord & Taylor, L.L. Bean and Nordstrom. Janis Ian works at a moderately priced soap store in this mall. Sharon Norbury bartends a couple of nights a week in this mall at TJ Calamity's. There is a Bell Mobility booth, which is a Canadian exculsive cell phone provider. The Old Orchard Mall reminds Cady Heron of the jungles in Africa.
Behind the Scenes
Sherway Gardens Mall in Etobicoke, Ontario, Canada was used as the filming location for the Old Orchard Shopping Center.
Gallery