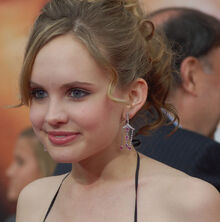 Meaghan Jette Martin (born February 17, 1992) is an American actress and singer.
Her most notable work includes the role of Tess Tyler in Camp Rock and it's sequel, aswell as several other Disney shows. She starred in the ABC Family television series, 10 Things I Hate About You as Bianca Stratford. Martin also guest stars on The Coppertop Flop Show. Meaghan is also known for lending her voice for Naminé in the video game series Kingdom Hearts as well as voicing and motion capturing Jessica from the video game Until Dawn.
In her role of Jo Mitchell in Mean Girls 2, Meaghan portrays a teenage girl going through the high school troubles.
Ad blocker interference detected!
Wikia is a free-to-use site that makes money from advertising. We have a modified experience for viewers using ad blockers

Wikia is not accessible if you've made further modifications. Remove the custom ad blocker rule(s) and the page will load as expected.