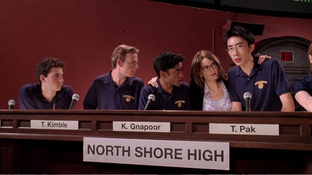 Mathletes is a math competition team for North Shore High School. Sharon Norbury is the coach of the team. All of the members of the team are all in her eighth period Calculus class. They win the state championship. They defeated Marymount Prep in the finals.
Team Members
Ad blocker interference detected!
Wikia is a free-to-use site that makes money from advertising. We have a modified experience for viewers using ad blockers

Wikia is not accessible if you've made further modifications. Remove the custom ad blocker rule(s) and the page will load as expected.