The North Shore High School's Lady Lions Lacrosse Team are briefly shown in the ending scene of Mean Girls.
The most recent addition to the team is Regina George, who's therapist said that it'd be a good idea for her to start playing sports and let all of her anger out on the field, thus, she decided to join the group.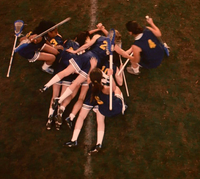 The only known members of this team are:
Ad blocker interference detected!
Wikia is a free-to-use site that makes money from advertising. We have a modified experience for viewers using ad blockers

Wikia is not accessible if you've made further modifications. Remove the custom ad blocker rule(s) and the page will load as expected.