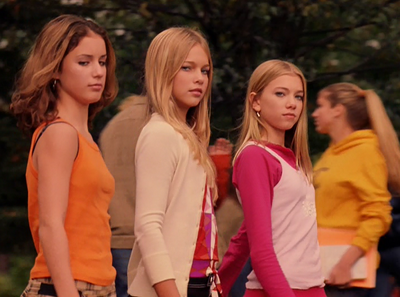 Junior Plastics
are three brief characters from
Mean Girls
. They are portrayed by
Megan Millington
,
Tara Shelley
, and
Shannon Todd
.
The Junior Plastics attended North Shore High School. Damian Leigh, in his Senior year at the end of the movie, saw these three pretty and stylish girls walking together snobbishly. He dubbed them Junior Plastics, not in reference to the grade as they were actually Freshman. Before the movie ends, they too nearly get hit by a speeding bus in front of North Shore, but the movie does show them getting hit as part of Cady's imagination. These girls were only seen once at the end of the movie, and not for very long after that.
Ad blocker interference detected!
Wikia is a free-to-use site that makes money from advertising. We have a modified experience for viewers using ad blockers

Wikia is not accessible if you've made further modifications. Remove the custom ad blocker rule(s) and the page will load as expected.