| | | |
| --- | --- | --- |
| " | Laura, I don't hate you 'cause you're fat. You're fat because I hate you. | " |
Jessica Lopez




Appeared in
Mean Girls
Age
16 (presumably)
Occupation
High School Student
Portrayed by
Olympia Lukis
Jessica Lopez
is a character in
Mean Girls.
She is portrayed by
Olympia Lukis.
Jessica is a student at North Shore High School. She was one of the Desperate Wannabes until the break-up of The Plastics, and later became a part of the Actual Human Being clique.
The reason why she's in a wheelchair hasn't been revealed. She appears to be a good friend of the 'Shortest Girl', as they are almost always seen together. The two later got into a fight over the pages of Burn Book, but soon-after they are seen together once again, so they presumably recovered their friendship.
Mean Girls Edit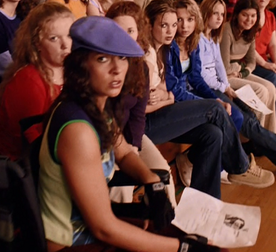 Laura doesn't play a major part in the movie's plot. She makes her first appearance She hates a fat Laura, which is seen in a scene where Jessica publicly said that she 'Doesn't hate her cause she's fat, she's fat because I hate her'.
Ad blocker interference detected!
Wikia is a free-to-use site that makes money from advertising. We have a modified experience for viewers using ad blockers

Wikia is not accessible if you've made further modifications. Remove the custom ad blocker rule(s) and the page will load as expected.