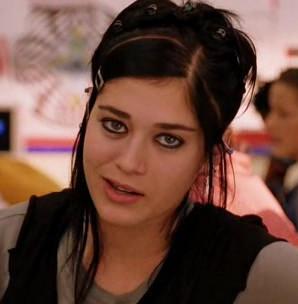 Janis Ian is one of the main characters in Mean Girls. She is portrayed by Lizzy Caplan.
Janis was, up through eighth grade, best friends with Regina George, until Regina started spreading rumours that Janis was a lesbian.
She was also the original choreographer for Santa's Helpers performance of Jingle Bell Rock, which they would perform at multiple Winter Talent Shows.
Janice is, along with her friends, Damian Leigh and Cady Heron, planning to mess up Regina George's life. Janis introduces Damian as "Almost too gay to function," and it was only OK when she says it. At the end of the movie, Janis eventually starts dating Kevin Gnapoor, a Mathlete.
Appearance
Edit
Janis is Lebanese, and has black hair and wears black makeup as she is presumably goth. It is said that in eighth grade, she cut off her hair.