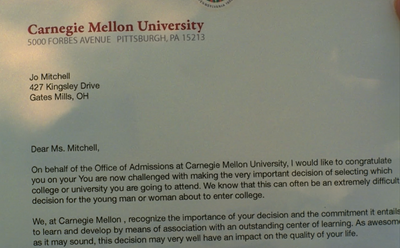 Carnegie Mellon University
(
Carnegie Mellon
or
CMU
) is a private research university in Pittsburgh, Pennsylvania.
Carnegie Mellon is mentioned heavily in Mean Girls 2. It is Jo Mitchell's dream school, as it was the school her mother used to attend. Eventually, Jo was accepted to the university. Unfortunately, after she got accused for stealing the money for Homecoming event, Principal Duvall had called them to cancelled the admission. However, after it was finally revealed to be Mandi Weatherly who stole the money for the animal center, principal Duvall call the University to finally reintegrate Jo in.
It was later revealed that Abby was accepted in Carnegie Mellon aswell.
Ad blocker interference detected!
Wikia is a free-to-use site that makes money from advertising. We have a modified experience for viewers using ad blockers

Wikia is not accessible if you've made further modifications. Remove the custom ad blocker rule(s) and the page will load as expected.